Astronomical Centre Rijeka
Schedule for June 2022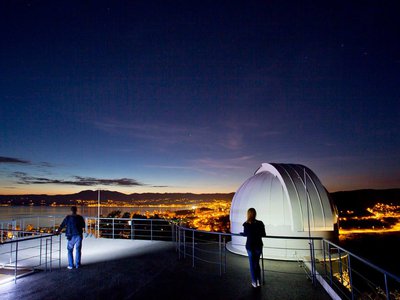 Important Information
Content You Can Experience
Schedule - June 2022
Hour

Tuesday
Wednesday

Thursday

Friday

Saturday

11.00

 

 

 

 

 

Matinee for children:

Live show:

 

 

 

19.00

Film:

Live show:

Film:

Film:

 
20.00

 

Starry Nights:

Film: Planets in Sight + Losing the Dark

+ Night Sky orientation

 

 

 

Film:

Touching the Edge of the Universe (11+)

 

20.30
 
 

NEW Live show:

Live show:

 
22.00
Observatory
Observatory
 
 
Observatory
Extraordinary program
1. june - on the occasion of the Festival Fiumare - Sea of Stars: adventures between stars, planets and seas.
8. june - International ocean day: 13,00h film in the planetarium + play "Space swimmers".
21. june - "Music to the stars"- a night of french culture on the occasion of the Days of Francophonie in Rijeka: 20,00h film "Vibrato" and orientation of the night sky; 21,00h concert of the duo "Moi plus toi" Dragan Jungić and Jennifer Lazarić Jungić.
30. june - International asteroids day: 19,00h Search for comets (planetarium); 20,00h Small bodies of Solar system (planetarium); 21,00h Threat and seed of life (lecture); 22,00h Search of space treasures (observatory).
Program for organized groups
Organized groups (schools, kindergartens, tourists, etc.) - on appointment (films, live presentation, observatory).