Astronomical Centre Rijeka
About the Venue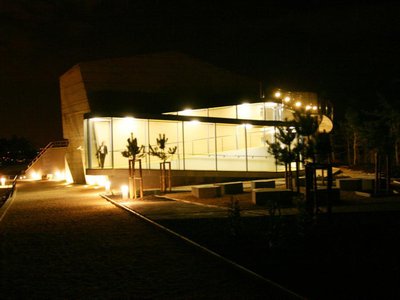 Do you dream about travelling to faraway places?
Is the universe far enough for you? If this is the case, embark on your journey now. Point of departure is here - in the Astronomical Centre Rijeka.
Location
Sveti Križ Hill (45˚ 19' 29'' N. and 14˚ 28' 59'' E), 3 km from the Rijeka city centre
For education, fun and socializing
Everyone is welcome:
children,
adults,
families,
pensioners,
students,
tourists,
your employees and business partners,
scientists...
The Academic Astronomical Society Rijeka has its offices within the Astronomical Centre Rijeka.
Unique in many ways
it is the first and the only Astronomical Centre in Croatia which includes both, the observatory and the planetarium 
the digital planetarium is the only one of its kind, not only in Croatia, but also in the region
it is one of the few centres that can be reached by a city bus
it is located on the top of the Sv. Križ Hill (the Holy Cross Hill), which is considered to be the oldest archaeological site in Rijeka and has been protected as cultural heritage of the Republic of Croatia since May 2006
it is the greatest investment in technical culture in Croatia
it  had been used as a military fortress during the World War II and was adapted afterwards
two variable stars were discovered from the local observatory
it is a winner of the special Blue Flower Award granted by the Tourist Board of the Primorsko-goranska County for the category "Tourist offer and sightseeing venues" as a part of the educational ecology project "I love Croatia"
it is a winner of the Association of Innovators Sigma–CBTour 2011 Award, granted for the best marketing strategy in innovative business tourism
the project "Integrated marketing, communications and programme strategy of the Astronomical Centre Rijeka has been integrated into the General Plan and Strategy for Tourism Development in the Republic of Croatia,
it is a winner of International Property Award 2014 for Europe in category Public Service Development,
it is a member of the IPS (International Planetarium Society)
it is easy accessible and suitable for the disabled
in the immediate vicinity of the Centre is a medieval church Sveti Križ
the shortest glagolitic inscription dating back to the 13th century and a statue of the Capitoline Wolf have been found on the Sv. Križ Hill 
it is surrounded by a park with natural sub-Mediterranean vegetation
the centre is situated on the new walkway, halfway between Plumbum-Trsat
Free Internet access is provided (wireless).
Astronomical Centre Rijeka comprises 545 m2 of closed space and 325 m2 of open space. It includes a digital planetarium, an observatory, a small and a large hall, a multimedia workshop, a ticket office, a cafe, an upper (panoramic) terrace and a lower terrace.  The facilities are entirely adapted to the needs of the users with limited mobility.