Astronomical Centre Rijeka
Kaluoka'hina, The Enchanted Reef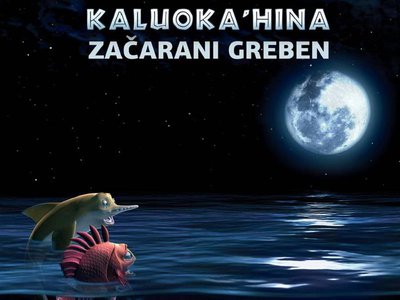 Genre: family entertainment 3D animation feature
Duration: 30 minutes
Languages:  English, German, French, Russian, Spanish, Croatian
Trailer: watch on Youtube
Official website: kaluokahina.com
"Kaluoka'hina, The Enchanted Reef" is the worldwide first family entertainment 3D-animation feature film originally produced for the 360˚ Dome Projection Format, offering thus a completely new and unique visual panorama experience.
The film transports the viewer to a tropical reef, a one-of-a-kind world: colorful and foreign, full of adventure and danger, riddles and mysteries, old legends and myths... a world  inhabited by creatures that are humorous and courageous, lovable and bizarre, charming and dangerous. 
  
"Kaluoka'hina", undiscovered by mankind, hidden in the vast oceans of our planet, there where the depths of the seas guard their fascinating secrets:
 
One of the most precious is "Kaluoka'hina", a tropical coral reef - an enchantment lies over this peaceful place: mankind cannot find it. The reef's colorful inhabitants have thus always lived in paradisiacal peace, until a volcanic catastrophe breaks the spell...
 
Now it's up to Jake, a young sawfish, and his buddy Shorty, a lively reef fish, to restore the magic of their home Kaluoka'hina. Their only lead: an ancient legend that tells of touching the moon... But how is a fish supposed to touch the moon? This is just one of the intriguing puzzles that Jake and Shorty will have to solve on their most exciting adventure ever: the quest to save their beloved reef.
 
Kaluoka'hina, The Enchanted Reef - a humorous adventure story for young and young-at-heart; entertaining and exciting, with many informative details about the fantastic world under water. Both a thrilling and educational film, which sharpens our awareness to preserve our environment. A true treat for the entire family.