Astronomical Centre Rijeka
Our Moon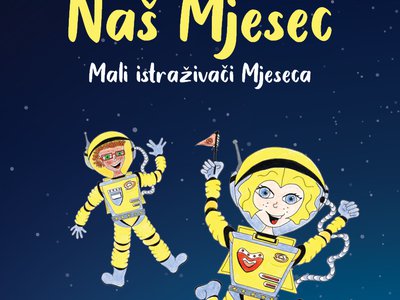 Experience: expert - guided live presentation
Duration: 40 minutes
Audience: 4 - 7 years, primary school
AUTHORS
Idea: Andrea Cvitan
Text authors: Andrea Cvitan and Elio Janko 
Programmer: Elio Janko
Illustrator: Lara Dežulović 
CONTENT
Svemirko and Svemirka are two curious children. They live on planet Earth and are fascinated with the endless Universe. They like to spend their time in nature, especially on the Kvarner beaches, observing the stars and the Milky way. They decide to expand their knowledge in the Astronomical centre Rijeka and get involved in interesting and curious stories about the planets, especially the Moon. They find out that the Moon is the only celestial body visited by humans, all the details of the first mission. This new insights encouraged our characters to visit the Moon. Did they succeed? Join them and find out!
MAIN CHARACTERS
Svemirka - This restless and curious girl likes to spend her time in the nature looking for answers to many of her questions. She reads a lot and is always accompained by her cat Laserka.  
Svemirko - He is fascinated by rockets and space explorations, helped by his bitch Beti. He shares everything with his best friend Svemirka.
Beti - This peaceful bitch likes to eat and loves her friends Svemirko and Svemirka.
Laserka - She likes to cuddle and spending her time outside.