Centre Zamet
About the Venue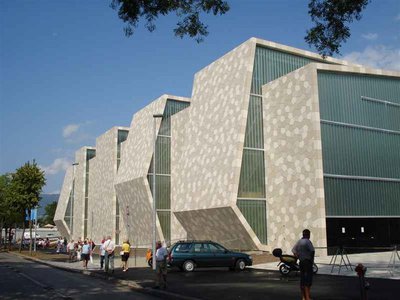 Inaugurated in September 2009, Centre Zamet is a new modern public building, located in the vicinity of the open market and primary school. Comprised of an indoor sports hall, a library, community offices, shops, bars, a public square and a parking garage, the complex is a unique social, sports and business centre of the west part of Rijeka.
Centre Zamet is an architecturally acclaimed and award-winning project designed by the 3LHD architects. In 2009, it was awarded with the 'Bernardo Bernardi' award as the most successful achievement in the field of interior design, as well as with the prestigious award by the world renowned architectural website ArchDaily as the 'Building of the Year 2009' in the category of sports buildings.
Silver Medal for individual indoor sports facilites awarded by the Internatinal Olympic Committee (IOC) and International Association for Sports and Leisure Facilities (IAKS), 2011
In 2009 the Centre Zamet won the Vladimir Nazor Annual Award endowed by the Ministry of Culture for the field of architecture and urbanism. It was developed by the architecture studio 3LHD which was conferred an award by the Croatian Designers Society for the best achievement in spatial graphic design and signalisation in the year 2010.
The Centre posses various premises which can be used for organisation of the most demanding indoor sports competitions, concerts, congresses, public lectures and various cultural programmes. It provides new possibilities for all the citizens, in the first line for athletes and non-professional sportsmen, children and younger population but also for the business entities.
During 2009 and 2010 various competitions such as the 11th European Individual Men and Women's Chess Championship EURO 2010 took place at the Centre. This was the greatest chess championship ever held in Croatia, during which, the Centre Zamet had the honour to host one of the best world chess players, Anatoly Karpov. The World Man and Women's Junior Bowling Championship for U23 was another important competition held at the Centre.
In the sports hall of the Centre Zamet, visitors can experience the world class sports events. It is also suitable for organisation of various concerts. Famous Croatian pianist Maksim Mrvica, the Croatian men' s choir Klapa Intrade and the legendary Italian pop music group Ricchi e poveri, as well as the festivals MIK and Kvarnerić were held here.
In collaboration with the Institute of Informatics of the City of Rijeka free wireless Internet access has been provided for all the visitors.
Centre Zamet can be easily reached by public transport by taking the bus No.2, 2a or 3a.