Swimming Pools Kantrida
About the Venue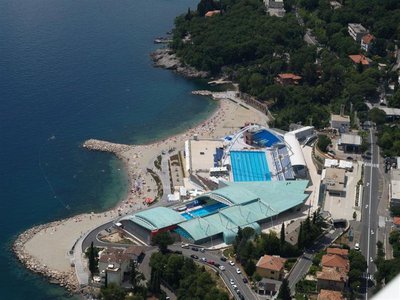 The Swimming Pools Kantrida complex includes five swimming pools. Next to the old outdoor pool, which has been reconstructed, there are four more swimming pools.  The Olympic pool 1 (an indoor swimming pool), a 25m swimming pool and a children's pool were built in 2008, whereas a diving pool was completed in 2011. During the winter season, the Olympic pool 2 and the diving pool are covered by a dome, making it possible to use them throughout the whole year.
The Swimming Pools Kantrida, sports, leisure and entertainment complex was inaugurated in 2008 and completed in 2011. The construction works began with reconstruction and enlargement of the open Olympic Pool situated in the immediate vicinity of the sea. The end result was five swimming pools of different dimensions.  Apart from the swimming pools, the complex includes additional contents, which is why it is not only used for high-quality preparations and competitions by professional athletes but also for leisure and entertainment. It was awarded several international awards. 
On the wet side, the facility boasts the Olympic Swimming Pool 1 (indoor swimming pool) with a unique retractable roof structure, the reconstructed Olympic Swimming Pool 2 (outdoor swimming pool), a 25m swimming pool, a shallow pool and a diving pool. The swimming pools are used by athletes of various age groups for professional trainings and by general public for leisure. They are well equipped to meet the highest standards in water sports. Beside the complex is a beach, which was officially opened to the public in the middle of June 2011.
On the dry side, there are fitness suites, wellness, scuba diving center, cafés, and parking facilities, all offering a breathtaking view of the Kvarner Bay and the islands.
Awards
The Swimming Pools Kantrida were awarded numerous prizes among which:
a special prize awarded by the International Association for Sports and Leisure Facilities (IAKS) and the International Olympic Committee (IOC) 
the IPC Distinction awarded by the International Paralympics Committee (in 2009)
a special recognition for the Ploče Beach (in 2011 as a part of the initiative Blue Flower) and
Ploče was awarded as the best beach in the project "Tourist Flower - Quality for Croatia 2012".
Virtual Tour

 Take the virtual tour (avi, 10,3 MB)