Swimming Pools Kantrida
Diving Swimming Pool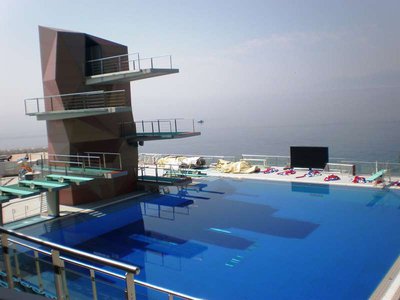 Size: 20 m x 25 m x 5 m
Water temperature: 29ºC
Air temperature: 31ºC (the temperature can vary since the pool is open in summer and cover by a dome in winter)
The Diving pool, 20 x 25 x 5 metres, meets all standards for large, international diving competitions and  for junior water polo and synchronized swimming competitions. A special feature of this pool is that it is an outdoor pool, covered by a pressostatic balloon during winter time.  During summer months, visitors can enjoy the stunning view stretching behind the Olympic swimming pool, which is also part of the complex, and admire the beach promenade and the Bay of Kvarner. The pool is suitable for divers, swimmers, water polo players, scuba divers and synchronized swimmers. Another advantage of the pool is that it can be used throughout the year.
The dimensions of the pool, diving platforms and boards are in line with the technical guidelines of the International Swimming Federation (FINA). 
The walls of the pool are equipped with underwater loudspeakers and windows for watching the dives. The diving pool also includes a pool in which divers can relax before diving.
An impressive diving platform was built of special material which changes color. The diving pool has several diving platforms: 1 m (one fixed and three removable), 3 m (three fixed) and a diving tower with four platforms (3, 5, 7.5 and 10 metres).

In summer months, the pool area can accommodate 378 spectators. There are also seven journalist seats, seven seats for persons with disabilities and four VIP seats.

Swimming pool machinery with filters and pumps is located on the ground floor, together with a device blowing hot air under the divining boards (bubble).