Swimming Pools Kantrida
The Ploče Beach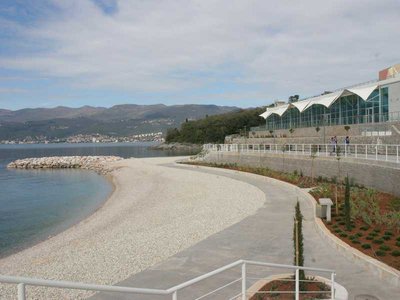 The Ploče Beach includes:
beach
sunbathing area
walking path
beach volleyball playground
In the southern part of the Kantrida Swimming Pools complex a 350 meters long seaside belt covering more than 14.000 m² stretches along the sea, including the beach Ploče with additional facilities and a promenade.  
Visitors can sunbath on sand or on the cemented part of the beach. Bathers can use showers and 22 dressing cabins as well as 13 toilets, some of which are disabled-friendly. Persons with disabilities can reach the beach by an elevator and enter the sea by a wheelchair ramp.
An elevator takes you from the nearby public garage to the reception of the Kantrida Swimming Pools. The stairs in front of the terrace bar bring you directly to the walking path and the beach. A special lift for the disabled leads to the sunbathing area also connected with the walking path and the beach by an additional lift.
There is also a volleyball playground and a separate area where children can play in the sand.
The beach Ploče was awarded a blue flag for the year 2011 and 2012, which is an international recognition for beaches with clean water and high quality facilities. During the bathing season, lifeguards take care of the swimmers' safety.
As part of the initiative Blue Flower, in 2011 the Ploče Beach received a special recognition in the category of the best equipped public beaches. Rijeka's beach Ploče was awarded in Dubrovnik as the best beach in the project "Tourist Flower - Quality for Croatia 2012".
Download Brochure

 a4af7fbb-f938-4f83-bcfa-57c8593a1e24-0.pdf