Astronomical Centre Rijeka
Schedule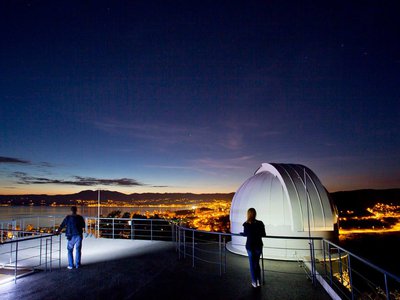 Important Information
Content You Can Experience
Schedule - February 2023
Hour

Tuesday
Wednesday

Thursday

Friday

Saturday

11.00

 

 

 

 

Matinee for the youngest:

Live presentation: Stellar Game (4+) 

 

18.00

Film:

Live presentation:

 

19.30

Observatory (6+)

Observatory (6+)

Live presentation:

Live presentation:

Film:

Two Small Pieces of Glass (10+)

 

20.30
 
 

Film:

Film:

Observatory (6+)
Extraordinary program
11.02. - Carnival at the planetarium for the youngest: organized kids play; 
14.02. - Valentine`s day at the ACR: Romance under the Stars (on appointment 051/455 -700); 
16.02. 19,00h - THREAT FROM THE SKY: SOLUTINOS? On line conversation with the astrophysicist Marco Micheliem from NEO (Near-Earth Object) - Coordination center of the European space agency and the Observatory Serafino Zani from Brescia (Italy). 
21.02. - 25.02. - Holidays at the ACR: live presentation: Man in Space (8+) from tuesday to saturday starting at 05,00pm; 
01.02 - 28.02. -  Photo exhibition of satellite images "Lookin Beyond" organized by the Italian consulat general and the ACR.
Program for organized groups
Organized groups (schools, kindergartens, tourists, etc.) - on appointment (films, live presentation, observatory).