Astronomical Centre Rijeka
Schedule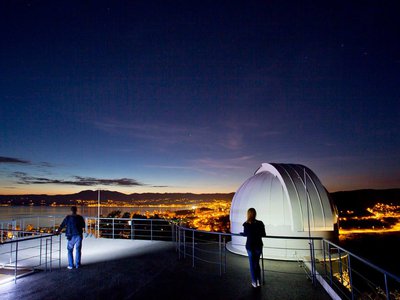 Important Information
Content You Can Experience
Schedule - August 2022
Hour

Tuesday
Wednesday

Thursday

Friday

Saturday

19.00

Film:

PACKAGE PROGRAM "Starry Nights":

Film: Vibrato (14+) 

+ Losing the Dark

+ laser Night Sky Star Gazing (11+)

Live show:

Film:

PACKAGE PROGRAM "Journey to the unknown" (8+):

Film: Vibrato (14+) 

+ live From Stars to the black holes

 

20.00

 

 

 

 

PACKAGE PROGRAM "Summer nights":

Show: Guide to the night Sky (6+) 

+ AstroNews

questions and answers (11+)

 

 

 

21.00
Observatory
Observatory

Film:

 
Observatory
Extraordinary program
5. june to 15. september 2022. - PACKAGE PROGRAM IN ENGLISH "Starry Nights";
2. to 12. august before the start of the regular program at the digital planetarium will be held a short live show Ready, steady, Perzeids! regardings the tears of S. Lovre;
12. and 13. august at 21,30h observation with telescopes;
NEW 19. august - Special program – SATURN PARTY 18,00h – Saturnians, workshop for children aged 4-10; 19,00h - Safari through the Solar system; 20,00h - Planets in sight; 21,00 Secrets and beauties of the Saturn family, lecture; 22,00 - 24,00 Saturn party.
Program for organized groups
Organized groups (schools, kindergartens, tourists, etc.) - on appointment (films, live presentation, observatory).